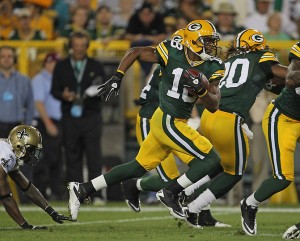 Last night's season opener between the Packers and Saints escalated quickly. I mean it really got out of hand fast.
I think Aaron Rodgers killed a defense.
Week 1 games rarely provide anything special. Both teams are trying to work out the kinks, and get off to slow starts. There was nothing remotely slow about last night, and it has me genuinely giddy about watching more football on Sunday.
So giddy, in fact, that I decided to go through each of the Week 1 matchups, and pick the one thing I'm the most excited about. In the interest of time, they will be in Tweet form.
@Atlanta/Chicago. Jay Cutler will go down, and he will go down hard. Then he will run away, blaming his diabetes.
@Cincinnati/Cleveland. The Browns are favored by almost a touchdown. Beware of flying elephants.
@Buffalo/KC. The Bills are starting the season as the third best team in their division. Enjoy it while it lasts.
@Philly/St.Louis. Any football fan not in the DC area has to be excited about watching the Eagles in 2011.
@Detroit/Tampa. I want to see Suh rip someone's head off. Literally.
@Tennessee/Jacksonville. I will root vehemently against the Jags all season. I hate quitters.
@Pittsburgh/Baltimore. Is it time to turn against the whole, 'Joe Flacco is good' movement yet?
@Indianapolis/Houston. The Texans offense should make this watchable for a half. In the second, Vodka Collins getting the shakes will have the same effect.
@NYGiants/Washington. Redskins fans need a win here. I hope they get it, because Giants fans need to be shut up.
@Seattle/San Fran. Epic battle between the two worst starting QBs in the league. It's the toilet bowl!!
@Minnesota/San Diego. McNabb was apparently too dumb to run the Shanahan's offense. Will be interesting to see if he is smart enough to hand the ball off.
@Carolina/Arizona. Larry Fitzgerald with a real live NFL QB throwing him the ball? Yes please.
@Dallas/NYJets. I hate the Jets. And yes, that hatred will even allow me to root for Dallas.
@New England/Miami. The Dolphins quest for 0-16 begins. Get the champagne ready!!
@Oakland/Denver. Sorry Denver, I didn't mean to steal your thunder. You could go 0-16 too. Yes you could.
**One note from yesterday's Dear Mr. Fantasy piece.  I will be starting Chad Ochocinco over Miles Austin.  Austin's hamstring might limit his productivity, and the Dolphin's secondary shouldn't limit anything.**
——Corey