Going into the Monday Night games I was fifteen points behind my brother in our Week 1 matchup. We spent the better part of the night texting back and forth, talking shit as he gave me updates. When I left work, I knew that Ochocinco had failed to earn more than 1.4 points and that McFadden had 13 in the third quarter.
The clock was winding down. I was going to lose.
On the way home I walked by a bar that had the Raiders/Broncos game on TV. It wasn't over, and there was more points on the board than there had been in my brothers last update.
I still had a chance! Unfortunately I had no internet connection so I was left to speculate until this morning.
The final score was 100.50 to 97.02. McFadden had finished with 16.60 points and I had won.
As my brother said, 'It was a barn burner.'
*************************
Looking back on Week 1, I made a few mistakes.
I benched Miles Austin in favor of Ochocinco. The rationale had been sound. He was banged up, and likely to face Darell Revis. Plus as we all saw, the Patriots are capable of putting up huge numbers on offense, and it seemed plausible that Ocho would get in on the action. More on that in a minute. But if you were to look at Austin's numbers, he was aided by a touchdown catch that could have gone either way and to me, looked like it was an interception. So benching him wasn't as big a mistake as starting Ocho. I should have known that the Patriots would humble their newest WR in their first game.
You don't come in and run shit on Belichick's ship. It was a typical Hoodie move. By targeting Ocho three times, he will get to see how the fiery WR responds, whether he is really embracing the whole, 'team first' mentality or not. Belichick's quote after the game proves it,
"It wasn't a one man band out there. We had lots of contributiuons."
I'm still glad to have him on my bench, but it may take a few weeks for Ocho to start paying dividends.
The other questionable move, starting RB Tim Hightower over Felix Jones, worked out in my favor. Hightower showed that he has the potential to be a top fantasy RB this year, and Shanahan showed he trusts him enough to give him the chance. Hightower even remained on the field in most goal line situations. Something Skins fans warned might not happen.
So I'm 1-0, and get to brag to my younger brother about something other than being more handsome for a change.
******************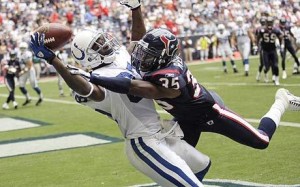 I had said not to start Reggie Wayne, Rashard Mendenhall, Mike Thomas, and Eli Manning.
Wayne had a great game as his team's only offensive weapon, but Mendenhall had exactly the kind of game I predicted (45 yards, 0 TDs), Mike Thomas managed only 5.5 points, and Eli Manning would have had a sub 10 point day were it not for a 1 yard scramble for a TD in the first quarter.
Whether you listened to Jimmy Dugan, and avoided the clap, or me, and avoided these players…….That's good advice!
*****************
My sleepers for Week 1 were Ben Tate (who I picked before Foster was officially ruled out), Reggie Bush, Braylon Edwards, and Lance Kendricks.
The Rams are high on Kendricks and I think he will be a solid TE option by Week 10. But right now the guy looks scared of the NFL game, and it's translating to the drops.
Edwards was also a bust.
However, Bush had nearly a 100 yards and 1 TD, and Tate piled up 116 yards and a TD, so I went 2/4. Chances are however, if you started Edwards or Kendricks it wasn't the reason you lost, but sticking Tate or Bush in the lineup could have produced a win.
And yes I'm completely aware that I'm rationalizing to make myself look good.
*****************
See you at the end of the week with a look at Week 2.