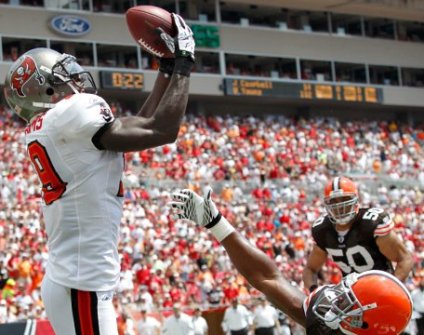 My bid for an undefeated season came to an end early this year, after losing by 3.56 points.
I would blame myself, but that would be completely out of character.
Nope, my Week 2 loss falls squarely on the shoulders on Tampa Bay WR Mike Williams.
Williams lost .4 points on Sunday. You could say that I'm being unfair, after all it was my decision to start Williams over Ochocinco and AJ Green, both of whom would have given me enough points for a win. But Williams is his team's best WR, and Josh Freeman completed twenty two passes. There are only two explanations that could account for Williams only getting 4.5% of his team's receptions.
One is that Williams is sleeping with Freeman's baby mama, and the QB is punishing Williams. Hopefully by next week the two men meet face to face, with Freeman telling Williams, 'Catch this motherfucking ball', and thus ending the strife. Is it a sign of immaturity that I think all real life conflicts should be solved like they were in Major League?
Option two is that Williams was slacking off, not running hard, and forced his QB to look elsewhere in order to complete the comeback against Minnesota. How else would you explain Arrelious Benn, Preston Parker, and Dezmon Briscoe getting thirteen more targets than Williams? Those sound more like the names of the Cornell Debate Team than actual NFL receivers.
Hard to argue with it being Williams fault, isn't it? Still not convinced?
Here's how the rest of my team performed;
Phillip Rivers – 23.32
Miles Austin – 33.10
Darren McFadden – 24.30
Tim Hightower – 10.60
Brandon Pettigrew – 0.70 (Gets a pass because he was a sleeper pick that I took later on, which allowed me to load up at WR/RB)
Neil Rackers – 5.0
Baltimore – 2.0 (Get a pass because I don't want Ray Lewis to stab me in the face)
With the chemistry that AJ Green is showing with Andy Dalton, he may not be on my bench much longer. I had taken him towards the end of the draft thinking he would pay dividends later on, but Mike Williams may force my hand sooner than that.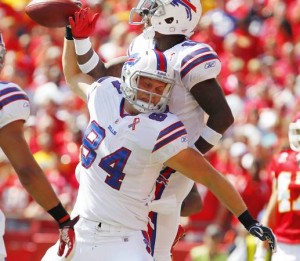 I'm putting Williams on notice that his lack of production isn't going unnoticed.
In addition, I'm momentarily jumping off the Lance Kendricks band wagon. I'm still high on the rookie TE, but the Rams offense hasn't found it's groove yet, and I doubt anyone else will pick him up. The opportunity to add Bills TE Scott Chandler is too good to pass up.
That's right kids, the Bills are 2-0, and their players are actually fantasy assets. Maybe this belongs in a Signs of The Apocalypse post….
——Corey