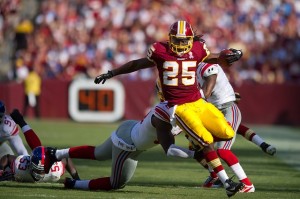 Here's my starting lineup for Week 3;
QB – Philip Rivers. If Rivers wants to be considered a top NFL QB, he needs to shred the Chiefs this week. Fitzpatrick and Stafford did it in the first two weeks, so I'm confident Rivers bounces back.
WR – Mike Williams. It's been tough sledding for Williams in the first two weeks, and if Austin was healthy he might have been benched this week in favor of AJ Green or Ochocinco. But he shredded Atlanta last year, and I'm stuck with him, so he will be starting.
WR – Chad Ochocinco. The injury to Aaron Hernandez might give Ochocinco the chance to get more involved in the offense this week. Miles Austin's hamstring injury will give him another chance to be more involved on my fantasy team.
RB – Darren McFadden. McFadden is running with purpose, and is the kind of back that could give the Jets D trouble. Even if I don't believe that, he is my best RB and I'm not sitting him just because he's playing a good defense.
Flex – Tim Hightower. Hightower seems to have established himself as the go to back in Washington. Helu saw a lot of action last week, but as long as he keeps holding onto the ball, Hightower is going to keep getting starts.
TE – Scott Chandler. I didn't add him to sit on the bench. I may have started him even if Pettigrew wasn't banged up.
K – Neil Rackers. Yada. Yada.  Kicker.
D – Baltimore. Good matchup against a Rams offense that hasn't quit found its rhythm yet.
The Clap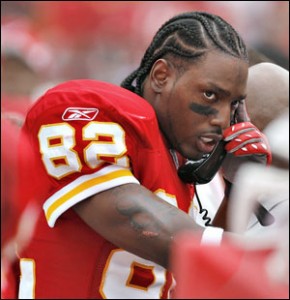 Dwayne Bowe.  The Chiefs offense just got one dimensional.  That doesn't bode well for Bowe's production.
Zach Miller.  Really earning his contract so far (32 yards, 0 TDs) but that may be mostly Tavaris Jackson's fault.
Eli Manning.  Not a great match up against an aggressive Philly defense, plus Eli sucks.
Frank Gore.  Cincinanti's defense is underrated, and I think Gore has an unimpressive 21 carry, 68 yard performance.
Sleepers
Plaxico Burress.  Santonio Holmes is still nursing a quad injury so Burress could get a lot of opportunities against a Raiders secondary that looked a bit suspect last week.
Sidney Rice.  Coming back this week from injury, he may be one guy who can actually catch some of Tavaris Jackson's errant passes.  Plus the Cardinal's secondary is terible.  Which, as all the Mexicans in Arizona know, is Spanish for terrible.   Good option in leagues where you start 3 WRs, or if you have an injury to one of your top guys.
Mark Sanchez.  Any QB against the Raiders secondary is a good play, especially if you have an injury to your starter (Tony Romo).
CJ Spiller.  Going to the well one last time with Spiller.  Patriots are always susceptible to speedy RBs, and the Bills offense is for real.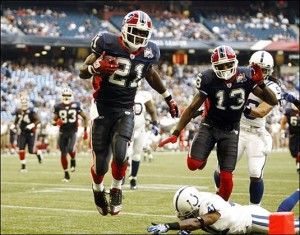 ——-Corey