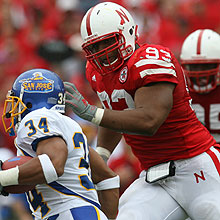 Paradigm breaker.  Outside the box.  Set a precendent.  Break up the monotony.  After all the woulda, coulda, shouldas, it was a lot more of the same when it came to the 2009  Heisman winner.  After all, there is a reason that he's frozen in bronze carrying a ball, not sacking a quarterback , taking on the double team, or combo blocking.  Life on the interior is a thankless job, and despite all my  logical reasoning, I thought maybe, just this once, a linemen would win the Heisman, never mind someone on defense.  But after all the hoping against hope, I was left wanting. Ndamukong Suh went home empty handed.
Actually, that's not true.  Suh has already received all of college football's great accolades,Nagurski, Outland Trophy , Bednarik, unfortunately, just not its greatest one.  It had the makings of monumental upset written all over it.  Here is a kid, playing in a notoriously small market, on a team not contending for a national title, who up until the end of the season had remained largely unknown, and was not even mentioned in early Heisman talks.
Here is where I'm sure I'll catch a lot of the hate, but as a defensive tackle, arguably the least "skilled" of the unskilled positions, Suh put up monster numbers.  82 tackles, 42 solo, and 12 sacks.  My coaches always used to tell our defensive ends, get one sack a game, that's 12 sacks on the season, the NFL will pay you a million dollars to do that.  Suh did that from the interior, while taking on double teams.  Very rare is the linemen who can change a game or lead his team in tackles.  The position is thankless.  And after Thursday's Heisman presentation, he was certainly thanked very little.  Beyond the numbers, anyone who has played or really appreciates the position of defensive tackle knows that the job is built upon letting others make the plays.  Sure he had 82 tackles, but holding his gap, occupying blockers, he gave his linebackers the privilege to roam the field, preying on ball carriers and quarterbacks with reckless abandon.