Hi.  It's me Jay. I'm back again this week with part one of my NFL playoffs breakdown….
Arizona Cardinals at New Orleans Saints, 4:30 pm. (NO -7)
…"Get your popcorn ready" would have been such a good line if the Bills had made the playoffs in, oh, say the last decade.  But this game fits the same bill; two great offenses going head to head. The Saints limped into the playoffs with three straight losses . They took almost all of last week off to get healthy. CBs Jabari Greer and Tracy Porter are back after missing almost the whole second half of the season. This should help but come on, I don't care if the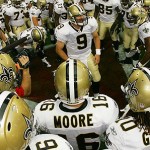 Saints play with 13 guys on the field, the Cards offense is explosive. Warner could go out there with me playing receiver and they would still put up points (that may be stretching it a bit but you get the point). In all honesty, I think the Saints need to try to put pressure on Warner and make him make quick decisions. This may work and at the same time it may backfire but the whole world saw what happens when you let him sit back there with time. A lot of people will be high on the Cards after an exciting win at home. I think the Saints like the role they are playing this week. There hasn't been much talk about them. They play at home and the Superdome should be rocking. Look for Drew and Crew to get back on track here and take down the high flying Cards.
Bottom Line:
Saints win, b
ut as far as the spread goes, be
t your cake on the Cards. Saints, 34-31.
Baltimore Ravens at Indianapolis Colts, 8:15 pm. ( IND -6.5)
The Ravens played a very good game in New England last week as they dominated the Pats in every aspect. The Pats came out flat and had no idea what hit them. It will be a different story in Indianapolis this week. The Colts have taken a lot of heat for resting their players. Now its time to see if their strategy worked. I'm calling for a big game from Peyton Manning (real shocker, huh?) You could see how pissed he was when they let perfection slip away. Plus give the smartest guy in the NFL two weeks to prepare for 1 team? The Colts need to force the Ravens to beat them through the air (last week Flacco was 4 of 10 for 34 yards) That SHOULDN'T cut it in an NFL playoff game. If the Colts can get the Ravens into 2nd and 3rd and longs, it could be a long day. Rookie Coach Jim Caldwell makes his playoff debut but lets be serious about who is running that team. If I had to rank my top 3 coaches in the NFL it would go: 1. Peyton Manning 2. Brett Favre and 3. Sean Payton. Look here: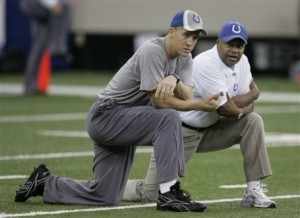 That conversation probably started something like, "Hey Peyton, what do you think we should do this week?"
Bottom Line: Colts win (and cover), 27-17
.