Dallas Cowboys at Minnesota Vikings, 1:00 pm. (MIN -2.5)
The Cowboys are playing very good football right now. It seems like they are peaking at the right time. Romo is playing out of his mind and the defense is playing the best they have all season. I just have a feeling that the Boys won't continue to play this good. The Vikings ended the season by whooping up on the Giants. They should be ready to go and I think the Cowboys run to the Super Bowl ends in Viking country. The combination of Brett Favre and Ragnar should be enough to derail the D-Train. I think the Vikes should get AP 25-30 touches in this game. It will be a good battle between the Dallas D-line and the Vikings O-line. Dallas did a great job of shutting down DeSean Jackson two weeks in a row but can they do the same with Offensive rookie of the Year, Percy Harvin?
Bottom Line: I'll give the 2.5 points and take Minnesota, 31-24.
New York Jets at San Diego Chargers, 4:40 pm. SD -9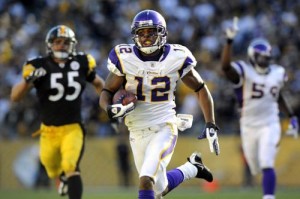 This game reminds me of the old paradox," What happens when an irresistible force meets an immovable object?" Corny? I know, but honestly, the Jets defense is playing awesome right now and the San Diego offense is as hot as any. The Chargers own an 11 game win streak. It will be interesting to see how this game unfolds. If the Chargers can put up some points and make the Jets throw the ball a lot, Sanchez will be in serious trouble but if the Jets can dominate the time of possession and keep the score close, so they can rely on the O-line and run game then I think the Jets can hang in there. I am leaning towards the Chargers getting it done. I think Antonio Gates is too big of a mismatch for the Jets (or any team). I am also going to go out on a limb and call for Darren Sproles to have a big game. He is my dark horse. He is such a weapon in the kick return game and is awesome on screens and draws. The Jets love to bring pressure, so look for Sproles to sneak out of the backfield and be unaccounted for. All Rivers needs to do is dump it off to him and he can do the rest. I'm torn on this game but I think the Jets run out of steam. Also, how can the Chargers lose with LT in the backfield? (see below)
Bottom Line: I'll give the 9 and take Saint Diego , 27-16.