AFC Championship Game
New York Jets at Indianapolis Colts, Sunday 3:00 pm (Spread: Indy -7.5)
As Dr. Frankenstein would say," It's ALIVE!" Have the Colts created a monster that can't be stopped? That's the feel I get when watching the Jets play the last 3 weeks. No one can stop their run game and no one can score on that stingy defense. The Colts were one of the main reasons that the Jets got into the playoffs after they laid down midway through the 3rd quarter in their week 16 game. Will it work out for the Colts or will it blow up in their face? I expect the Jets to try and put a lot of pressure on Manning. (I feel like I am talking myself into picking the Jets) Sorry Jets fans its not going to happen. One simple reason, Peyton Manning. He is just too good. Yes the Jets will take Reggie Wayne out of the game, so what? This just means expect Dallas Clark to have a big game. I also think rookie WR Austin Collie will see a lot of targets and should get into the end zone at least once. So unless the Jets just signed two bears to their starting defense, the Jets season is coming to an end. (See below)
Bottom Line: Manning will guide the Colts to victory (and barely cover). Colts 24-16.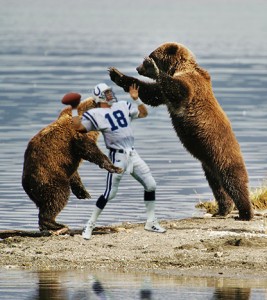 Side note: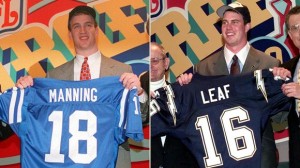 Just imagine the difference in these two franchises if the picks were flopped? Who says there's no "I" in "Team"
NFC Championship Game
Minnesota Vikings at New Orleans Saints, Sunday 6:40(NO favored 3.5)
What a waste of time it was last week watching the Vikings and Saints lay the smack down on their respective opponents. The Cowboys and Cardinals shouldn't have even showed up. Both looked so uninspired which is hard to believe considering it was the "elite 8" of the NFL playoffs. Well, enough of that. This match up should be very exciting. The Saints are always fun to watch and Brett Favre is like a tractor beam, "Sucks you right in." The Vikings defense played awesome last week and so did the Saints offense (something has to give). At times this year the Vikings have been susceptible to the big play and last week Drew Brews threw down field (15 yards or more) 9 times. The Vikings pass rush needs to put pressure on Brees and not allow the WRs to get down field. Does Favre have any magic left in the tank? I'm leaning toward the Saints at home. Greg Williams (Saints D-coordinator) called a great game last week and again will do the same.
Bottom Line: I'm going with another shootout, Saints win but Vikes cover bc Kenny Powers is playing DE for the Minnesota this weekend 31-28.