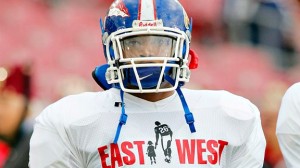 The College All-Star games are when a player's stock has the most potential to rise or fall, as the speculation and evaluation gets harder with the 2010 NFL draft approaching. While the Senior Bowl is undoubtedly the most prestigious of the the postseason games, the East-West Shrine game is probably second — and is arguably the most important for mid-round players hoping to improve their chances.  With all 32 NFL teams in attendance, it is a week long showcase for players, so Jay and I are bringing you 5 players from each squad to watch…

EAST
1. Greg Hardy, DE – Ole Miss Rebels
Hardy is my number 1 player to watch on either team. Last year Hardy was supposed to be a 1st round draft pick but he decided to come back to school. He missed almost half of the season with a few different injuries. Well now he is healthy and can show the NFL scouts that he can play at the next level. With a great game I think Hardy locks himself into being picked no later than the 2nd round.

2. Blair White, WR – Michigan State Spartans
Former walk-on turned captain, Blair White, will have some questions to answer at the Shrine game. He had a great senior year with 70 catches for 990 yards and 9 TDs. The knock on White is that he isn't that fast. He has great hands but will he be able to create space for himself at the next level?
3. O'Brien Schofield, DE – Wisconsin Badgers
Schofield was awesome for the Badgers this season. He had a great game vs. Miami in the Champs Sports Bowl where he recorded 2 sacks. He isn't that big. He is extremely athletic and runs very well. Can he play DE at the next level? He may be in for a switch to a 3-4 OLB in the NFL.
1. Lindsey Witten, DE, UConn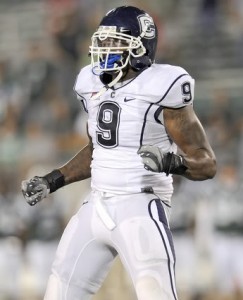 Witten set the tone for pass-rushers in the Big East this season. He is tall and incredibly athletic, with good hands and an incredibly long frame. His brother, Donte Whitner, was the Buffalo Bills' first-round draft pick out of Ohio State, so he has genetics in his favor. There are still some questions about his size and strength translating to the NFL in run-stopping situations, which has some scouts projecting him to play outside linebacker in rush situations as a pro. The Shrine game will give him a chance to showcase his toughness and speed and to improve his draft stock to the late second round.
5. Jarrett Brown, QB – West Virginia Mountaineers
At 6'4, 220 lbs., Brown has a great frame to play QB in the NFL. He is extremely athletic and has tremendous upside. He had an okay senior year, throwing only 11 TDs to his 9 INTs. He needs to show that he has the smarts to play QB at the next level. Can he read defenses and make smart, quick decisions? With a bad game he risks going undrafted however with a good game I think a NFL team will take a shot on him in the 5th or 6th round.
WEST

1. Max Hall, QB – BYU Cougars
Hall had a very good senior year as he led the Cougars to an 11-2 record. He threw for over 3,500 yards and 33 TDs. Hall doesn't have a great body for an NFL QB. He stands just under 6'1 and weighs 200 pounds. Listen I don't want to hear the Drew Brees excuse. (How Brees stands only 6'0 and weighs in around 210 pounds) He is an extreme exception to the rule
2. Joe Pawelek, LB – Baylor Bears
Pawelek was a monster for Baylor. He had over 100 tackles the last two years. The big question with him is his speed. Does he have what it takes to run sideline to sideline in the NFL? He has good instincts and with a good game I can see him being drafted in the 3rd or 4th round.

3. Dennis Pitta, TE – BYU Cougars
Pitta really has a chance to climb up draft boards here. Everyone has Jermaine Gresham from Oklahoma as their top rated TE but after that the rankings are up in the air. With a good game, I can see Pitta climbing up the rankings board and securing himself as the 2nd rated TE.
4. Darrell Stuckey, S – Kansas Jayhawks
Stuckey played well for Kansas this year. He doesn't have great size for a safety but he is very versatile and isn't afraid to help out in the run game. With a good game, I think Stuckey can improve his draft stock and move up into the 2nd round.
5.  Chris Brown, RB – Oklahoma Sooners
Brown's stock really dropped this year. In 2008 he had 1,220 yards and 20 TDs. In 2009 he only totaled 749 yards and 7 TDs. Now, all of that is not his fault. The Sooners lost their Heisman trophy winning QB and their offensive line was banged up all year. Brown will probably be a 6th or 7th round pick in the 2010 NFL draft but with a bad game he runs the risk of going undrafted. Brown needs to run hard and show that he can play at the next level.