Hey, Mountain Mama- Hit play and read the post


(sorry, I had to)
So it's West Virginia week. No we aren't traveling to the land of Slack-Jawed-Yokells (and you thought I was rough on Jersey?). WVU is coming to our house. Let's break it down:
OFFENSE:
West Virginia's offense is unparalleled in all the land. Quarterback (slash running back, slash super hero) Pat White makes the impossible seem possible. Behind him (or beside him) in that difficult to defend spread is running back Noelle Devine (gold frontz is back!). This year WVU has decided to incorporate White's arm into the mix ("it's not scrawny, it's nice…"). Who better to catch his balls than Jock Sanders (yes, his name is Jock). All three of these weapons can slash opposing defenses, add that to an experienced and talented offensive line and it is something truly special. What separates this group from squads past is that their big-play capability is an every-down threat. No other group in the country can make a mundane 3rd and 2 on their own 25 a scoring opportunity. We have a tremendous challenge ahead of us. This week it really comes down to being able to play assignment-perfect football.
DEFENSE:
Saying WVU's defense is unique is like saying superman was "gifted." The 3-3-5 is like a mid-season migraine for all offensive coordinators: seven previous weeks of Lombardi-esque basics and all of a sudden someone is rocking the boat. Scheme is scheme, but when a team can put athletes on the field as good as WVU's to execute, well, the task is just that much more challenging. What is the task you say? Well, for us (UConn) it is to be able to throw into that 5 deep coverage and being able to also effectively run the ball. Good thing we have a quarterback that can sling it, and a running back that is tops in the nation.

SPECIAL TEAMS:
WVU kicker Pat McAfee is probably the best in college football. But I'd venture that our own "kick squad" could do some damage of their own on the field. I've been trying to sell this for years: "Kicker Board Drills" (basically the football practice equivalent of cage fighting). Put a bunch of kickers in the octagon and last man standing wins…the respect of his teammates.

SOME FINAL THOUGHTS:

Maybe my final thoughts are becoming a rip-off of Jim Rome's "Final Burn." But, I like to think that I am a lot less cynical (and I'm also a lot fatter than Romey).
I bet Rich Rodriguez—mind if i call you Dick Rod?—I bet Dick Rod would trade the bitter winters of Michigan for… the bitter winters of West Virginia right now. The football Gods are NOT happy with Dick Rod right now.
I've come to terms with using blog as a verb, blogger (the noun), even Blogosphere. How about Blogomy?
Blogomy: [blah-goh-mi] noun: The practice of having more than one favorite blog. Not being exclusive or loyal to one blogger.
"Did you see that? He's bouncing from Thoughts From a Fat White Guy to SBnation, to BON, and back again. He's committing blogomy. (He's a blogomist.)"
(We see most cases of this in Utah.)
I've been to West Virginia. C'mon John Denver, almost heaven??? Yeah, almost. And I almost have all my hair.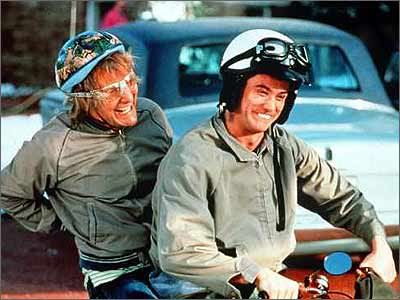 "That John Denver was full of shit, man…"
Check back later,
FWG