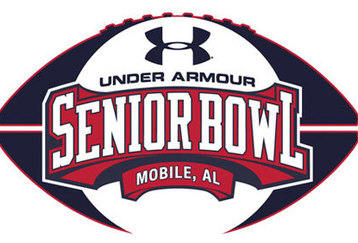 You should watch this year's senior bowl for several reasons.  Not only is it a precursor to the combine and draft, but it is also infinitely more entertaining than the Pro Bowl.  Sure, its an All Star game, but these guys actually have something to prove, which makes them very dangerous people.  So here are my players to watch.
QB – Tim Tebow, Florida Gators – Tebow is probably the prospect that everyone is watching. He had an outstanding career at Florida but has a ton of questions to answer as an NFL prospect. Can he play under center? (probably  not) Can he make drop backs second nature? Can he fix his extremely long release? (that's what she said)
WR – Danario Alexander, Missouri Tigers – Great Size (6'5, 221 lbs.) Went under the radar at Missouri. His speed is the big question mark. There are a lot of good receivers in this draft but many are small guys with blazing speed. He is a different type of WR.
RB/WR – Dexter McCluster, Ole Miss Rebels – Kid can fly. I mean not literally, but pretty close. Many people will question his size (5'8, 165 lbs.) but the NFL is built for speed, not comfort (like Dr. Quinn's boobs)  Current examples in the NFL include DeSean Jackson, Darren Sproles, and Percy Harvin.  His stock is sky rocketing and I'm going on the record saying he'll be a 2nd round pick.
DT – Terrence Cody, Alabama Crimson Tide – I just wrote him in because rarely do you get to watch guys close to 400 lbs play football. He weighed in at 370 lbs. An absolute monster in the middle. Cody says he will drop 20 lbs. before the combine but for how big he is, he is athletic and can move. He clogs up the middle and will allow LBs to run free through holes to make stops in the back field.
S – Taylor Mays, USC Trojans – At 6'3, 231 lbs, Taylor Mays is like a LB playing safety. He is an absolute freak athlete. He runs very well and is a student of the game. He struggles in the play action passing game and some scouts question his football instincts. He had a down year at USC and it will hurt his draft stock a little. Sometimes Mays takes bad angles to the ball. There has been talk that Mays will move to LB in the NFL.