Can I get an AMEN!  Sure.  Running takes motivation, drive, sheer focus.  Got nothing but love and respect for the runners (not applicable to spandex wearers).  But marathon runners are outside of their skulls.  I don't even put 26 miles on my car in a single week.  We are only here to help show them the light!  Like Hey Mr. Rent Is 2 High, I'm with these guys.
Coincidentally.  Just yesterday, I decided to stroll outside in the crisp sunny weather.  Taking it all in because soon it'll be Ice Age 2010.  And some chick was sitting butt ass necked on the ground.
They are protesting the circus coming to town or something. You know. Since the circus abuses animal.
Like.  Do you know how many mounted police horses have crapped all over this sidewalk?  Telling everyone to stop the circus and protect animals, with PETA posters everywhere… maybe you're into that kind of thing?
I don't care how many abused elephants you think you're saving from the Ringlings, but all that's gonna get you is a straight up staph infection.  All I'm seeing is fake blood and shackles…how do I know you're not doing a promo for a Halloween costume shop or some sex fetish store?  Whatever.  If you don't eat meat, then I don't trust you.  Commies; enemies of the state, I say.
When I said, "Um, it's like really cold outside" – one of the crazies with her go-go gadget ears ran over to retort, "She knows that! She is a volunteer." Oh okay. I figured you were forcing her into bondage to entertain others (see what I did there??).
So she's letting it all hang out. While you nuts pass out pamphlets to people who don't actually care about your cause again, the only reason I took your hand-outs was so I could get a pic for the blog.  Remind me how much you paid for those shiny, professionally done and fancily wrapped DVDs. NOBODY IS BITCHING ABOUT ALL THE TREES YOU KILLED TO STAMP DUMBO ON THE WRAPPER.
I swear. If they drive the circus out of town and I don't get to see any midgets…ohhhhh. I swear.
Put your titties away. And pack your shit.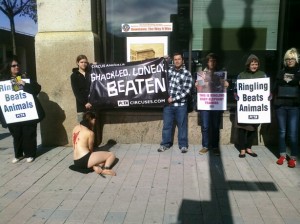 Don't they know that animals don't really have feelings and are here on this earth only to serve humans?  Yo!  Kidding…sort of.
*thanks to Hanks for the video tip