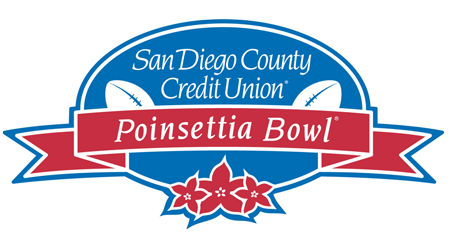 So far the bowl season has offered only one quality football game. Sadly, for this former employee anyway, this was the Beef O'Brady's Bowl. The rest have been boring. But what's worse, is that they have made no sense. These early match ups seemed to be the result of uninspired committees scraping the bottom of the bowl eligible barrel, with no regard for good sense, creating dynamic match ups, or at the very least placing teams in bowls where there fans could enjoy the festivities.
Well boys and girls it has finally happened. Despite threatening to break the 'Elderly Woman Behind the Counter in a Small Town' rule, which mandates you have serious merit in order to have a name longer than five words, the San Diego Credit Union Poinsettia Bowl at least makes sense.
Navy and Rickie Dobbs, featuring one of the nations leading ground games, travel to San Diego for their third bowl in six years. San Diego has the largest naval base on the west coast. Wait a second, this is sounding almost, dare I say, logical. A stadium full of rowdy midshipmen, and women, taking a break from their duties on the Christmas Eve Eve you say? Yes sir!
Navy's opponent? The San Diego State Aztecs! That is not a misprint. It is actually a team who preformed well enough to be placed in their own city's bowl. Teams who failed to generate enough buzz to play in their own city's bowl games should be hanging their heads in under five hundred shame, especially since EVERYONE makes a bowl game these days. (I am looking at you New Mexico).
The upstart Aztecs, bring a stingy rush defense, ranked third in the Mountain West, to well, their backyard. Usually a doormat, San Diego State's four losses this year came by a total of fifteen points. With stand out line backer Miles Buris and the conference's top quarterback in Ryan Lindley, these are not your father's Aztecs.
So to recap, you have two good teams, both with strong fan bases in the city. You have a great rushing attack against a good rush defense. You have rowdy servicemen and women getting into it with annoyingly laid back dudes from San Diego. You have the recipe for a good bowl game that makes sense to all those involved. Well done San Diego Credit Union Poinsettia Bowl! You totally redeemed your bowl committee brethren. Now lets talk about that name…