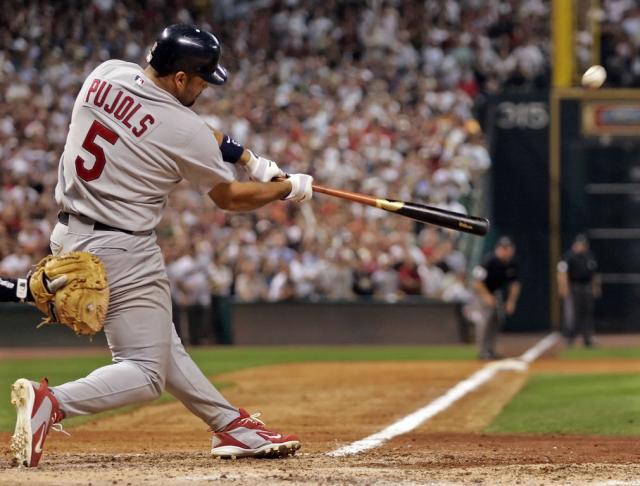 Albert Pujols has recorded 10 straight seasons with a .300 average, 30 home runs, and 100 RBI's.
That's more than Babe Ruth. And Lou Gehrig.
He is the best player in baseball right now, and is a year and a half younger than Alex Rodriguez, who signed a 10 yr contract worth $275M in 2007. He is also going into the 2011 season without a contract extension.
The deadline to work out a deal passed today with the major hiccup being, not years as many expected, but money. The Cardinals offer would have put Pujols in the top 10 highest paid players, but not the top 5. Here are the 10 highest paid players for 2010.
Alex Rodriguez – $33M, CC Sabathia – $24M, Derek Jeter – $22M, Mark Teixeira – $20M, Johan Santana – $20M, Miguel Cabrera – $20M, Carlos Beltran – $19M, Carlos Lee – $19M, Ryan Howard – $19M, Alfonso Soriano – $19M
I would have a hard time arguing Rodriguez, Sabathia, Jeter, Teixeira, or Howard. But let's look at Lee, Beltran, and Soriano.
Carlos Lee slumped horribly to start 2010 and finished with 24 HRs, 89 RBIs, while hitting .246. The power numbers aren't terrible but his average was down by nearly 54 points from 2009. Yet he made $19M last year.
Carlos Beltran barely played last year and has trouble duplicating his earlier success with the Royals and Astros since joining the Mets. Then again, the Mess is known to suck the life out of its players and leave them shells of their former selves. (See Wright, David, Santana, Johan or Rodriguez, Francisco) After going against the team's recommendations and putting off knee surgery, Beltran missed most of 2009. In 64 games he hit .255 with 7 HRs and 27 RBIs. Even if you triple those numbers, 21 Hrs and 81 RBIs if he had played a full season it is not exactly a lot of bang for your buck at over $19M.
Alfonso Soriano, for the bargain price of $19M, hit .258 with 24Hrs and 79 RBIs in 2009. Other names near the top 10 include; John Lackey, Carlos Zembrano, Barry Zito, and Manny Ramirez.
Let me say again, Albert Pujols has recorded 10 STRAIGHT SEASONS with a .300 average, 30 home runs, and 100 RBI's. In 2009, he finished with a BA of .312, 42 HRs, and 118 RBIs.
What I am trying to say here is that if you are the Cardinals, and you see how much mediocre talent is getting paid, don't you have to open up the piggy bank and do whatever it takes to keep Pujols?
In an uncertain business, he is as close to a sure thing as you are going to find. Suppose they don't resign him after this year, a year in which he is playing pissed off and playing for a contract. Someone else will pay him and the Cardinals will end up trying to sell their fans on something like a Maglio Ordonez, Garrett Atkins, Jonathan Paplebon free agent poo poo platter for what they would have had to pay to keep Pujols.
So in other words St. Louis….In the immortal words of Floyd Mayweather Jr…Step Your Game Up!