Normally in the Weekend Recap,I run down the weekend's news from the sports world.
With the Celtics out of the NBA Playoffs, I'm rooting for the Oklahoma City Thunder.  So I have decided to dedicate this piece to helping OKC coach Scott Brooks beat the Mavericks.
The Oklahoma City Thunder have, in my opinion, the most complete team of anyone left in the playoffs.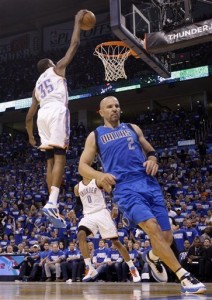 They have an elite superstar who can score from anywhere on the court in Kevin Durant, a gifted athlete at the point in Russell Westbrook, two low post players who play with a mean streak in Serge Ibaka and Kendrick Perkins, a legitimate scoring option for their second unit in James Harden, defensive minded role players in Thabo Sefolosha, Daquan Cook, and Nick Collison, and a quality backup point guard who can run the offense, and score the ball in Eric Maynor.
Compare that with the Heat, who can really only go six or seven deep, a Bulls team that struggles to score points when their second unit is on the floor, and a Mavericks squad that is just as deep, if not deeper, but not as tough defensively.
Unfortunately the Thunder also have the biggest Achilles heel of any team in the playoffs, and he doubles as the gifted athlete running the point.
Russell Westbrook was benched in Game 2 for the entire fourth quarter because of erratic play. Or because he threw a temper tantrum and tried to show up his coach. Or because Eric Maynor was doing a better job of running the offense. Or because the Thunder are a better team when he isn't the one responsible for the flow of the offense. Maybe it was all of the above.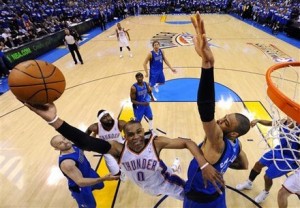 Westbrook played a great game in Game 3 on Saturday night, but it was one dimensional. It certainly wasn't anywhere near the triple double he had against the Grizzlies in Game 7. He had 30 points, 2 rebounds, 4 assists, and 7 turnovers. In four of his last five playoff games he has had more turnovers than assists.
The Thunder have lost three of those four. Clearly having a point guard with more turnovers than assists isn't good for anyone. But it's even worse when that point guard has alpha dog delusions, and refuses to spread the ball around.
Derrick Rose is similarly afflicted, but he IS the best player on his team, he takes the ball straight to the rim, and creates scoring opportunities for his teammates. Westbrook dribbles around like is playing street ball, and all he cares about is crossing his man up before trying to stick a jumper in his grill. It causes his teammates to stand around, and is the reason that the Thunder often devolve into a isolation offense that is predictable and easy to stop.
Fortunately for the Thunder I have a solution.
When you go to war you need generals and soldiers. I would jump into a fox hole with Westbrook any day of the week. The guy is tough, and has a mean streak that rivals anyone in the NBA when he gets riled up. But would I hire him as a general, entrusting him to rally the troops and develop a winning strategy?
Hell no.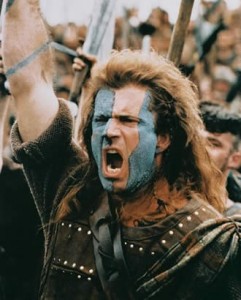 A good general doesn't play into the strength's of his opponent. He doesn't charge in blindly, outnumbered five to one, without involving his soldiers in the attack. Most importantly, a good general knows how to get the most out of his men.
Is Russell Westbrook his team's second best soldier? Absolutely.
But he isn't the best general, and putting him in that position doesn't give the Thunder their best chance to win the war.
In Game 4 tonight, they should put out a starting five of Perkins, Ibaka, Durant, Westbrook, and Maynor. You would get all the benefits of Westbrook's athleticism and offensive ability, without trusting him to get his teammates involved.
Look how that lineup would match up against the Mavericks starting five. Perkins on Chandler. Ibaka on Dirk. Durant on Marion. Westbrook on Stevenson. Maynor on Kidd.
They could still get out and run, but that lineup would be more efficient in the half court. Maynor could focus solely on getting the team going offensively in order to avoid the slow start that killed them in Game 3.
When they go to a second unit you could rotate Westbrook and Maynor out for James Harden, Nate Robinson, who might actually be able to keep Barea out of the lane, and Daquan Cook, who can chase Jason Terry.
A crunch time lineup of Maynor, Westbrook, Harden, Durant, and Perkins, Collison, or Ibaka would be very hard to stop on the offensive end. You would have three guys who can create their own shot, AND someone who's ego doesn't force them to jack up jumpers, getting them the ball.
They may get exploited on defense but as we saw at the end of Game 3, this series will be decided by whoever is more effective on offense.
I think that Scott Brooks proved that he was a great coach by keeping his star PG on the bench in Game 2. It took a lot of balls but it was the right decision, and showed he really understands the dynamic if his team.
Now he needs to show that he can adapt on the fly.
If you're general isn't doing his job, you don't give up and watch the men get slaughtered.
You take away his stripes, hand him a grenade launcher, and tell him to kill em all…and let the paramedics sort em out…
——Corey