The College Football Season is almost here, and it is time to look at who has a chance to get screwed by a computer system in January.
The Top 12 will next friday.
25) Mississippi State.
The Bulldogs bitch slapped Michigan in the Gator Bowl, and return some of that offensive firepower this year. They return seven starters on offense, with the only key piece missing being OT Derrick Sherrod.There are a lot more questions on defense. Last year Manny Diaz led Miss State to the 21st ranked scoring defense in the country. But he is gone now. And so is standout DE Pernell McPhee. They do have seven of their starters back on defense and the new coordinator worked under Diaz last year, so maybe they will continue the roll they were on last year. We will know early on whether they are for real with games against Auburn, LSU, and Georgia in the first five weeks.
Key Early Season Matchup – Sept 10 at Auburn
"Hope is a good thing, maybe the best of things, and no good thing ever dies." – Andy Dufresne
The Bulldogs have hope for the first time in a long time. It remains to be seen if they can crawl through 11 weeks of shit smelling foulness, in the form of top notch SEC opponents, and come out with a BCS berth on the other side.
24) Nebraska.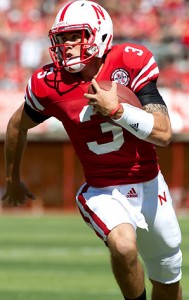 If Taylor Martinez can be as effective as he was last year, now that he won't be taking anyone by surprise, Nebraska could contend for a Big Ten title. The offense fell apart down the stretch. Martinez lost his confidence and developed the shanks. Bo Pelini has to replace CB Price Amukamara and S Eric Hagg in the secondary in order to keep the Husker's defense at the high level we have come to expect. Pelini is one if the best defensive minds in the country so I think he can get the most out of his team. They begin a tough first year schedule in the Big Ten with difficult, but winnable games against Chattanooga, Fresno State, Washington, and then at Wyoming. Ok so there's nothing difficult about Chattanooga but the first four games will make or break the Huskers season. If they get rolling they could be dangerous, if they stumble going into Madison on October 1, put em in a body bag Johnny.
Key Early Season Matchup – Oct 1 at Wisconsin
"Sweep the Leg!" – Kreese
Taylor Martinez is the leg, without him the Cornhuskers are in trouble.
23) Arizona State.
The Sun Devils have a talented roster, led by LB Vontaze Burfict and QB Brock Osweiler, but their presence here is more about a lack of depth in the Pac 12 South, which is like the NFC West. They should get to 9 wins easily. Utah and USC are likely their biggest competition and neither are as strong as they've been in the past.
Key Early Season Matchup – Sept 9 Missouri
"Sometimes it's a hard world for small things." – H.I. McDunnough
ASU is a small thing trying to make it back unto the big stage. It ain't gonna be easy.
22) Missouri.
The Tigers return ten starters on offense. Unfortunately number eleven was NFL bound QB Blaine Gabbert. There will be a serious QB competition in the summer between Blaine's younger brother Tyler Gabbert, James Franklin, and Ashton Glaser. If none of them emerge, freshman Corbin Berkstresser could get a shot. Missouri returns the core of its offensive line as well as weapons at WR and TE. The defense lost some major talent and will need to come together quick with a September 9th trip to Arizona State. I think that the Tiger have talent but will be hard pressed to stay in the Top 25.
Key Early Season Matchup – Sept 9 at Arizona State
"Good from far, but far from good." – Urban Dictionary
On paper the Tigers seem talented, but once the season gets started I see them getting shredded.
21) Florida.
Urban Meyer left Will Muschamp a garage full of talent. Now it is up to the former defensive coordinator to make it run. Bringing in Charlie Weiss to run the offense was a brilliant move for the first time head coach, who is now free to focus on improving the defense. Weiss, although woefully inept as a head coach, is an offensive genius and knows how to work with a QB. I mean, the guy made Brady Quinn look good. If they can get solid QB play from John Brantley, this rebuilding year could have an SEC Title run in it. The test will come in a three week stretch where the Gators play Alabama, then travel to LSU and Auburn.
Key Early Season Matchup – Sept 17 Tennessee
20) Virginia Tech.
The good news for the Hokies is that they have Frank Beamer, one of the best coaches in the country at rebuilding year after year. They also have four returning starters on the offensive line. Now the bad news.They lost their entire backfield when Tyrod Taylor, Ryan Williams, and Darren Evans declared for the NFL draft. The schedule is favorable and if Beamer can find a replacement for Taylor the Hokies could make another run at the ACC Title. They will need to avoid the slip ups that cost them early on in 2010, especially on the road against a dangerous ECU team.
Key Early Season Matchup – Sept 10 at East Carolina
"Up men to your posts! Don't forget today that you are from old Virginia." – George Pickett.
The Hokies will need to heed these words in order to overcome losing so many key players.
19) Texas.
Mack Brown handed the reins to his offense and defense over to new coordinators this year. Many Diaz will take over the defense, while Bryan Harshin will attempt to bring some of that blue field magic from Boise to Texas. If I was a Longhorn fan I would be excited about having two of the hottest young coordinators in the country calling the shots. Texas has serious talent, as always, on both sides of the ball. However I'm more than a little concerned about the offensive line's ability to protect the QB, as well as a head coach who doesn't have the self confidence to turn the ship around himself. If Texas can't turn things around this year, the only thing Mack Brown will be entitled to is a bus ticket out of town. A soft early season schedule could help the Longhorns build momentum going into the Red River Shootout on October 8th.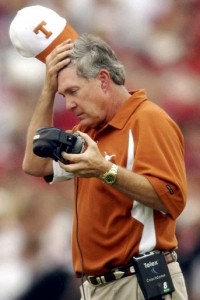 Key Early Season Matchup – Sept 17 at UCLA.
"Texas is neither southern nor western. Texas is Texas." – Sen. William Blakely
After last year, Texas needs to prove that Texas isn't mediocre.
18) Georgia.
After finishing with a 6-7 record in 2010, the Bulldogs look to rebound in 2011. They have a top recruiting class led by RB Isiah Crowell who should get a chance to start as a freshman, and QB Aaron Murray proved to be an efficient passer last year. The offense will miss WR AJ Green, but with four starters back on the offensive line, it should be much improved. The signing of DT Jonathan Jenkins should help improve a 3-4 defense that struggled last year. Opening the year against Boise State and South Carolina will be a trial by fire for the 'Dawgs. Don't get excited over there Mike Vick, that's a metaphorical fire, not the painful tortuous kind you were fond of.
Key Early Season Matchup – Sept 3 Boise State (at Georgia Dome)
"Be cocky. Walk into the Georgia Dome like you own it." – Mary Lou Retton
The Bulldogs will need to bring that kind of swagger into the season opener in order to get 2011 off to a good start against a talented Boise State team.
17) Auburn.
They fielded the Number 3 recruiting class in the off season but there are major holes along the offensive line. In addition to the three starters on the OL, they lost Heisman Trophy winner Cam Newton and DT Nick Fairley. With no clear cut favorite at QB between Barrett Trotter and freshman Kiehl Frazier, look for Michael Dyer to do a lot of heavy lifting for the Tiger offense. I expect Auburn to struggle this year, especially with road games at South Carolina, Arkansas, and LSU, but they should be right back in the National Title hunt for 2012.
Key Early Season Matchup – Sept 10 Mississippi State
"No Cam, No Nick, some problems…"
The Tigers are bound to experience a letdown after last year's storybook season. The question is how far they fall.
16) Michigan State.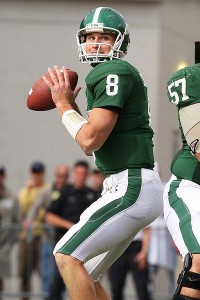 The Spartans will be able to run the ball against anyone with RBs Edwin Baker and Le'Veon Bell, who combined for over 1800 yds last year. QB Kirk Cousins returns as well, providing a stable presence in the huddle. There are big questions on defense though, with the loss of LBs Greg Jones and Eric Gordon.Michigan State may have a hard time containing the big physical offensive lines they will see every week in the Big Ten. They have creampuffs scheduled for three of the first four weeks, the one exception being a September 17th trip South Bend, so they could get off to a fast start like they did last year.
Key Early Season Matchup – Sept 17 at Notre Dame
"The world will know that free men stood against a tyrant, that few stood against many, and before this battle was over, even a god-king can bleed." Ok so that's a bit dramatic but these Spartans will look to stand tall against perennial Big Ten Tyrants Ohio State, Michigan, and Wisconsin.
15) TCU.
Coach Gary Patterson has built a perennial power house at TCU by always having a Top 10 defense. This year that will be tested, as the offense will have some major holes to fill. New QB Casey Pachall will try and replace Andy Dalton, and will need major help from talented RB Ed Wesley. The schedule is weak which might mean a lot of wins, but not a lot of respect from the BCS.
Key Early Season Matchup – Eh. The Horned Frogs have a pretty easy go of it until they travel to the blue field to take on Boise State on November 12th.
"Dance with who brought ya."
TCU relies on its defense, and will have to do so more heavily with the offense in a transition year.
14) South Carolina.
Losing Stephen Garcia could be addition by subtraction. The kid was a screw up and although The Program was filmed at Williams Bryce, the Gamecocks don't need a booze bag doing his best Joe Kane impersonation in the huddle. Steve Spurrier has his most talented team in his tenure at South Carolina, led by stud RB Marcus Lattimore. QB Connor Shaw, the likely candidate to replace Garcia, will have uber-talented WR Alshon Jeffrey to throw to. Adding Number 1 ranked recruit JeDeavon Clowney at DE will give the Gamecocks a serious pass rush.The true test will come in a rough four week stretch beginning October 15th, when they will travel to Mississippi State, Tennessee and Arkansas. With a weakened SEC East, this could be a special year in Columbia.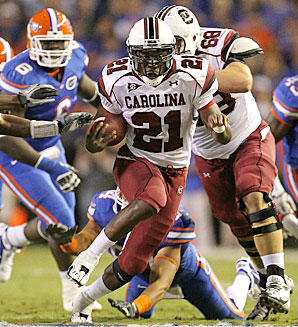 Key Early Season Matchup – Sept 10 at Georgia
"Happiness is a north bound Yankee." – Bumper Sticker
I have seen firsthand, the passion the people of South Carolina have for all things southern, and it's admirable, no matter how misguided it may be. I am hoping my alma mater can live up to their potential this year so I can do some serious hooting and a'hollering.
13) Notre Dame. Brian Kelly has built a solid offense in just two years at Notre Dame. He will hope to get QB back Dayne Crist back healthy in 2011 and was delighted that Malcolm Floyd decided to forego the NFL, until the star WR got busted for DUI. The offensive line should be improved and the Irish return 17 starters from last year's team that won their last four games. If the Irish can navigate a brutal schedule, with road games at Michigan, Pitt, Stanford, and home games against USC, Michigan State, Maryland, and BC, South Bend could be rocking again come Bowl Season.
Key Early Season Matchup – Sept 10 at Michigan
"When anyone asks me about the Irish character, I say look at the trees. Maimed, stark and misshapen, but ferociously tenacious." – Edna O'Brien
The Golden Domers will need that tenacity if they want to climb back into relevance.
Check next friday for the Top 12!
—–Corey