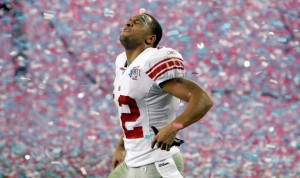 It should be made public knowledge that I'm not a New Jersey football Giants fan.
But the Philadelphia Eagles sniffing around division rivals, trying to lure their players away, is dirty pool.
The Eagles added former Giants WR Steve Smith, who is recovering from knee surgery, to a WR corps that already includes Desean Jackson and Jeremy Maclin. The move does make sense from a football perspective, with Maclin facing some uncertainty about his health, but it's hard to believe that it wasn't more about weakening the Giants, than strengthening the Eagles.
The Giants were not given the opportunity to make a counter offer, and the Eagles were no doubt whispering in Smith's ear about how he was being undervalued. How the Giants were disrespecting him, and didn't truly appreciate him the way that the Eagles would.
They may have been able to sing a siren's song that was sweet enough to suck Smith away from the G Men, but I'm not buying it.
Smith will find himself a fiftth, or sixth banana in the offensive pecking order in Philly, behind Jackson, Maclin, Mike Vick, LeSean McCoy, Ronnie Brown, and Brent Celek. Compare that with his role in the Giants' offense. Hakeem Nicks, who should see his fantasy stock plummet now that Eli Manning has lost Smith and TE Kevin Boss, and Mario Manningham may be flashier, but Smith was Manning's favorite target. He was the go to possession receiver for a quarterback who needs a security blanket, perhaps more than any other in football, in order to succeed.
Smith was Eli Manning's bottom bitch, and the Eagles rolled up in a flashier car to offer him a ride.
For Smith's sake I hope that I'm wrong, and the Eagles aren't just being that obnoxious neighborhood kid who wants everyone else's toys, not to play with, but to stick in a cupboard so no one else can use them.
But come on, it is Philly after all.
——Corey