I apologize for the delay in posting this. The tremors from the earthquake yesterday wreaked havoc on my ability to not procrastinate.
If you missed the fantasy rankings for Quarterbacks, you can check it out HERE.
Without further ado, or banter, I present the 2011 Fantasy Rankings for Running Backs.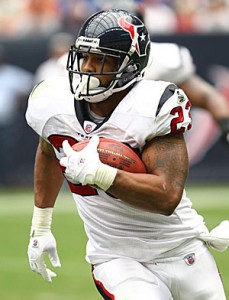 The Top Ten
1 – Arian Foster. Even if you ignore his breakout season last year, Foster plays in a division with three teams that aren't exactly defensive powerhouses. That means six games against weaker defensive fronts. Combine the fact that he plays on one of the most explosive offenses in football with the improvement the Texans D should show in Wade Phillips 3-4 scheme, and he is going to go first or second in most leagues.
Where to draft: First or second, ya dummy. Weren't you listening?
2 – Adrian Peterson. Not many backs are as durable as Peterson has been over the last few years. He may run his mouth a bit too much about slavery and other taboo topics, but the guy is a beast. The Vikings know that he is the key to any chance they have at making a playoff run so he will get plenty of opportunities to score points. Unlike other backs, Peterson doesn't have a short yardage counterpart who steals his red zone carries.
Where to draft: If you have the first or second pick, you can't go wrong with Peterson or Foster.
3 – Ray Rice. This guy really let me down last year. So much so that I had given up on him come playoff time, and he burned me again by putting up a million points. Had I started him, I would have been in the championship. Rice is too explosive, and plays behind too good of an offensive line, to have two off years in a row. His ability to catch the ball out of the backfield makes him especially valuable.
Where to draft: I would have a hard time passing up Rice at the third or fourth pick. He won't fall any lower than fifth in most leagues.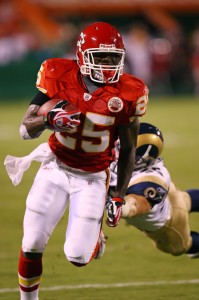 4 – Jamal Charles. The Chiefs offense should be more dynamic this year, which means more room for one of the most explosive guys in the NFL. Head coach Todd Haley seems to know the appropriate amount to use Charles and his slight build, so I'm not particularly worried about him wearing down. Like Rice he catches the ball extremely well, forty five catches last season, and will be the primary RB all year this year. He may not score a ton of touchdowns, but he puts up a ton of yards and puts up solid points on a regular basis.
Where to draft: Somewhere between five and eight.
5 – Darren McFadden. McFadden had a huge year last year and with QB concerns on the Raiders he will see plenty of action this year. I would have bumped him down a few spots if Oakland hadn't resigned Michael Bush. But they did, and he is the big punishing back that can be used in short yardage, and will keep McFadden fresh. I have him higher than a guy like Rashard Mendenhall because he can score in the passing game, as well as on the ground.
Where to draft: I'm pretty high on McFadden, who finally realized some of the potential we all saw when he was at Arkansas, and would take him in the first round. Especially with the last pick in the first and the first pick in the second.
6 – Rashard Mendenhall. Might see a slight drop in carries with the improved Steelers passing game, but he is one of the best red zone backs in the league. Like Peterson, he has the build to carry the load and is still explosive enough to break the occasional big run. Wouldn't be surprised if he responds positively to some of the criticism he heard in the off season and goes on a tear.
Where to draft: Similar to McFadden, I would take Mendenhall in the late first round or early second. He won't make it much past the first few picks in the second.
7 – Michael Turner. The Falcons should have one of the most dangerous offenses in 2011, so Turner will benefit from the attention that his teammates get. If he stays healthy he has the ability to be one of the top fantasy backs in 2011. That is a big if, as he has been injury prone ever since becoming the featured back in Atlanta.
Where to draft: The first three picks in the second round is the right range for Turner.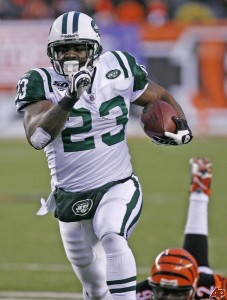 8 – Shonn Greene. I know, I know. The guy was ranked high last year and had most owners dropping him by week eight, but that was last year. He is a talented back, and he has the benefit of a great offensive line and a great defense. This should be a bounce back year for Greene.
Where to draft: Most people will be undervaluing Greene and you may be able to steal him in the third round, where he would be a tremendous value.
9 – LeSean McCoy. All the attention being paid to the Eagles WRs will make McCoy extremely valuable. He might not be the traditional every down back, but he puts up yards, and he gets in the end zone. When you have an offense as good as Philly's should be, everyone benefits.
Where to draft: A solid pick in the late second round. Could also wait and try to grab him in the third when everyone's focus switches to QBs.
10 – Chris Johnson. I don't trust him to care all season. Simple as that. RB is a grueling position and if his heart isn't in it, then I don't see him being the Chris Johnson of 2008/2009.
Where to draft: I wouldn't. Much like Peyton Manning, he is someone I will be avoiding. Someone will grab him in the first two rounds, and they will leave a better option on the board for you.
The Best of the Rest
Maurice Jones Drew. He is tough to tackle and should get plenty of touches. I would be worried about injuries though, and might only take as a second RB.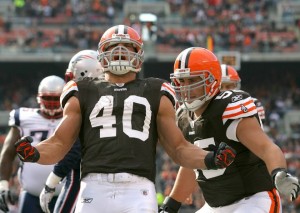 Frank Gore. I want to buy into him returning to form, I really do. But I wouldn't bet any money, or the pride that comes with winning your league, on it.
Peyton Hillis. The Madden Curse + Cleveland. Uh oh.
Felix Jones. I think Jones has a monster year. Seems like he is in the Mcfadden, I couldn't handle the lofty expectations but now that you aren't paying attention I'm going to go off, mold.
Matt Forte. Someone has to pick up the ball when Jasmine Cutler drops it and runs off the field crying for Kristin Cavalarri.
LeGarrette Blount. If he never punched that honky from Boise State in the face, he would have been considered one of the best backs in college. I think he takes a big step back to that level in 2011.
Ronnie Brown. Phuck You Philly.
BenJarvus Green-Ellis. Because I would probably rather have him than anyone else on this list.
You Underestimate the Sneakiness (under the radar)
Stevan Riddley, CJ Spiller, Kendall Hunter, Delone Carter, Reggie Bush(yes that Reggie Bush), Roy Helu, DeMarco Murray, Jamie Harper.
Wafflers
Steven Jackson, Ahmad Bradshaw, DeAngelo Williams, Jahvid Best, Mark Ingram, Beanie Wells, Tim Hightower, Brandon Jacobs, Ryan Matthews, Knowshon Moreno, Ryan Grant, Mike Tolbert.
Gracias, Pero No Gracias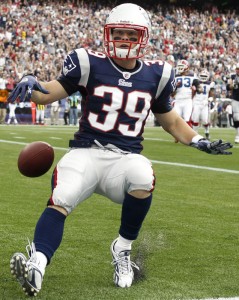 Cedric Benson, Marshawn Lynch, Joseph Addai, Fred Jackson, Daniel Thomas, Pierre Thomas, Jonathan Stewart, Michael Bush (aka The Whipping Back), Thomas Jones, Darren Sproles.
I Would But Only Cause Because He's A Little White Guy Who Plays With 100% Heart
Danny Woodhead.
Old Yeller
LaDainian Tomlinson
New Coat of Paint Ain't Fooling Me
Marion Barber, Willis McGahee
Don't Even Think About It
Tashard Choice
——Corey