With lots of Fantasy drafts happening this weekend, I'm rolling out the third installment in the Dear Mr. Fantasy series. For those of you who have been distracted by the earthquakes, impending hurricanes, or the fact that someone actually married the girl Ray J made a sex tape with, here are the QB and RB editions.
You know it's gonna get stranger, so let's get on with the show.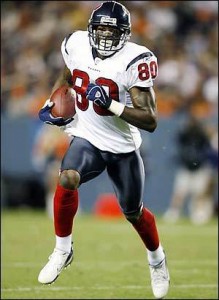 The Top Ten
1 – Andre Johnson. There is only one reason that I have Johnson ahead of Larry Fitzgerald. Matt Schaub is throwing the ball to Johnson. Schaub is an established NFL QB, has a handful of other weapons at his disposal, and knows the importance of getting the ball into Johnson's giant hands. The Texans offense will also make it slightly harder for defenses to double Johnson on every play. I like my WRs with a little Steve Smith in em, and Johnson showed that he had that when he battered Cortland Finnegan.
Where to draft: The top 6.
2 – Larry Fitzgerald. I may take Johnson first, but there's no other guy in the league I would rather see catching passes for my team more than Fitzgerald. Remember when the Eagles drafted Kolb, saying that he was too good to pass up? Well if that was true, and not just a way to cover up the fact that Donovan McNabb had become bad and they wanted to protect his trade value by claiming that the only reason they drafted a QB was because he was THAT good, than Larry Fitzgerald could catch 250 passes this year. I mean, the guy caught 90 with Derek Anderson, John Skelton, and Max Hall throwing the passes.
Where to draft: Late first to early second. In smaller leagues you can probably grab him in the second.
3 – Calvin Johnson. Writing this has made me realize that there may be the greatest collection of athletic ability at WR since, well, ever. The NFL getting bigger, stronger, and faster has produced a whole horde of WRs that Rick James would have loved.
Where to draft: Comes down to one questione really; Can Stafford get busy playing football, or get busy rehabbing his shoulder again? If you think he's going to stay healthy (I do) then Johnson is worth a late first, or early second round pick. If not, well then you're a dick for sending bad mojo out into the universe.
4 – Roddy White. White had a 115 catches last year. He is his QBs favorite target, and now, with Julio Jones, you won't be able to double team him. In some cases I would say that another marquee receiver would hurt production, but after watching the Rice/Young kind of chemistry that White and Matt Ryan have, I think it will increase his yards, and touchdowns, to have a legitimate number two.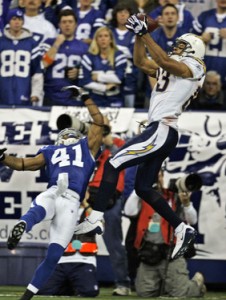 Where to draft: Mid second round.
5 – Vincent Jackson. Phillip Rivers loves to chuck the ball down field, and Jackson is the ideal big play receiver. He is big, fast, and strong. He only got a one year deal, so I expect him to be motivated as well. The Chargers will air it out every Sunday and Jackson should reap the benefits. If Gates comes back 100%, Jackson could produce huge numbers seeing single coverage on a regular basis.
Where to draft: I think that Jackson is undervalued, and will probably be available in the third, and maybe even fourth rounds. He will be worth a second or early third round selection by the end of the year.
6 – Hakeem Nicks. If he was on another team, I would have Nicks above Roddy White. The guy is that good. But with the Giants losing Kevin Boss and Steve Smith, he is going to see a lot more attention. Nonetheless, he gets into the end zone as well as any WR in football, despite relying on Eli Manning to do it.
Where to draft: Middle of the third to early fourth round. If you can get a top QB in the third, that would be a better choice.
7 – Greg Jennings. Being the best WR on the team with the best QB in football has to mean something right? I would jump into a fox hole with Tom Brady any day of the week, but right now, in terms of ability to play the position, I think Rodgers is the best pure QB. Jennings benefits from a deep offense that will help keep defenses from keying on him all the time, and there is at least one play a game where he makes a ridiculous sixty yard play.
Where to draft: Same as Nicks, middle of the third round is a good spot to target Jennings if you have addressed QB, or plan to do so later.
8 – Miles Austin. I'm cutting Austin some slack for his lackluster 2010. He had John Kitna throwing him the ball. That's like Ron Jeremy trying to teach you Catholicism. He is a talented WR on a talented offense that should thrive with Romo back healthy. Excuse me while I throw up in my mouth now.
Where to draft: Mid fourth.
9 – DeSean Jackson. The guy is the best big play WR in football. He might not prove to be durable, and he might not ever catch a 100 passes, but I don't see any chance you'll regret having him on your team.
Where to draft: Late fourth or early fifth.
10 – Mike Williams. Josh Freeman might not throw the ball as much as Rodgers, Brady, or Rivers, but he is an accurate, efficient QB who knows how to win. Surely he is smart enough to see that getting the ball to a motivated Mike Williams, who is determined to stay out of the NFL's scrap heap, is his best option.
Where to draft: Late fourth or early fifth.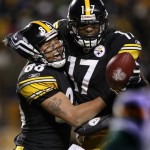 This Dude Does Not Abide
Mike Wallace. He may be one of the fastest guys in the NFL, but I don't see how he can be valued as the sixth or seventh best receiver. Wallace is a complimentary part, not a number one WR. Much like Peyton Manning and Chris Johnson, I will be avoiding him and allowing someone else to waste a high pick.
Don't Think Twice, It's All Right
Dez Bryant. Playmaker 2.0 may be a walking Jerry Springer episode, but the guy can flat out play. Something tells me he is in for a breakout season, and then a reality TV show.
Steady As She Goes
Wes Welker, Brandon Lloyd, Reggie Wayne (even if Manning missed extended time, Wayne will get his), Dwayne Bowe.
Broadway Shmo's Bitch
Santonio Holmes. Holmes is one of the more talented WRs in the league, and he is his quarterback's go to guy. On the field people, stay focused. It is never a bad move to have a WR on your team who can make circus catches, especially when you have a QB who wears white pants.
Bucket List Boys
Anquan Bolden and Chad Ochocinco will be productive for Super Bowl contenders, and then they will die.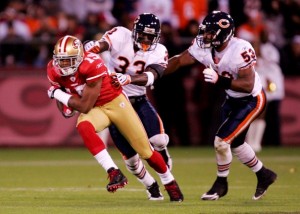 If I Only Had A QB
Michael Crabtree, AJ Green, Sidney Rice (although he did it to himself….)
Eh, You Could Do A Lot Worse
Julio Jones, Malcolm Floyd, Pierre Garcon, Percy Harvin, Jeremy Maclin, Plaxico Burress, Lance Moore, Santana Moss, Hines Ward, Mike Thomas, Danny Amendola, Lee Evans, Jericho Cotchery, Greg Little, Arrelious Benn, Steve Breaston, James Jones.
Lindsey Lohan's
First let me say that I'm starting a movement to have Lindsey Lohan, mean that something looks good from a far, but then when you get close enough, you're scared to touch it. Inevitably you do, and you always regret it. Like shrimp pad thai. Thoughts?
Stevie Williams (I'm not drafting a guy who taunts God through Twitter, unless his name is Arian Foster), Roy Williams, Kenny Britt, Austin Collie, but to be fair, it is solely because I would be afraid he would become concussed and die on my rug, Brandon Marshall.
A Lot Worse
Davone Bess, Deion Branch, Mike Sims-Walker, Steve Smith (the crazy version), Braylon Edwards, Jordy Nelson, Jerome Simpson, Terrell Owens, Devin Hester, Josh Cribbs (New kickoff rule will make him pretty much worthless), Johnny Knox.
Tomorrow I will be doing some Tight Ends.
——-Corey