I spent a good deal of time discussing which position players to draft, and which to avoid like the clap, last week. After completing my fantasy draft on Sunday, I'm rolling out a Dear Mr. Fantasy edition of the Weekend Recap.
I would talk about Hurricane Irene, but she strutted and fretted her hour about the stage, and was heard from no more. She was a tale told by idiots, full of sound and fury, signifying nothing.
********************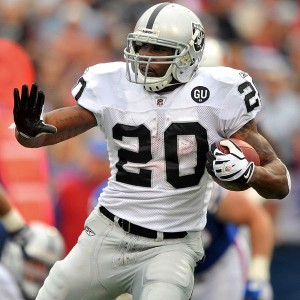 Here is how I drafted on Sunday with the 9th pick:
1 – Darren McFadden. This pick was half out of loyalty after McFadden carried my team last year, and half out of knowing the Raiders will run the ball six hundred times a game because they have no QB.
2 – Phillip Rivers. In my opinion he was the third best QB, from a Fantasy perspective, behind Aaron Rodgers and Mike Vick. If he was available when I picked in the second round I had decided I would take him.
3 – Miles Austin. I expect a big rebound year for Tony Romo and the Cowboys offense, so taking their best WR, who was still available when I selected 29th, was a no brainer.
4 – Mike Williams. Best WR on his team and with a league that starts two WR, a RB and a Flex, picking up another top receiver here was a must.
5 – Felix Jones. Due for a breakout season, much like McFadden had last year, after the Cowboys got rid of Marion Barber.
6 – Chad Ochocinco. Combination of Patriot homerism, and him being one of the best WRs still available with the 52nd pick.
7 – Baltimore D. This was the round that defenses started to go, and with some great position players I grabbed the best one on the board.
8 – Tim Hightower. Knowing he would fall made it possible to grab WR's with the 3rd, 4th, and 6th picks. He will be a top ten fantasy back with Shanahan revitalizing the Redskins ground game.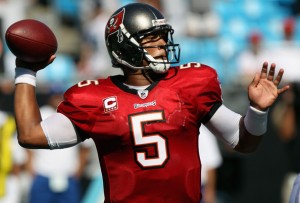 9 – Neil Rackers. Not much to say. He's a kicker.
10 – Josh Freeman. A bit high for a backup QB but Freeman has the ability to score points, and could pay dividends in the playoffs if the Chargers have locked up a high seed.
11 – Lance Moore. He is the most reliable WR on a team with the most accurate QB in football. Too good to pass up here.
12 – AJ Green. With lots of talent at WR, I took a flyer on Green. He is loaded with talent, and who knows, maybe Andy Dalton will be able to get him the ball by the time the playoffs come around. Fantasy, not real life. This is the Bengals after all.
13 – Brandon Pettigrew. Had planned on taken him, or Lance Kendricks, later on so I wouldn't have to waste a top pick on a TE. Happy that Pettigrew fell this far.
14 – Brandon Jacobs. No emotional attachment to this pick, so either he performs, or I'm trading him for Danny Woodhead.
15 – Jamie Harper. As I said last week, I don't trust Chris Johnson to care all season. Taking a talented rookie who could see a lot of time once Johnson goes Roberto Duran was worth the risk this late.
16 – Emmanuel Sanders. Played well at the end of the year last year and should benefit from the improved Steelers passing game in 2011.
There you have it. All in all I couldn't be happier with my team. I had wanted LaGarrette Blount, and Vincent Jackson to pair with Rivers, but in both cases I was beaten to the punch. The players I took instead, Mike Williams and Felix Jones, were both high up on my draft board so it could end up being a blessing in disguise.
Hopefully, if nothing else, this helps you see how an actual draft shook out, and if you haven't drafted yet, you can get idea of where you have to take players if you really want them.
Once the season starts, I will be featuring a fantasy column every week. It will discuss who I'm starting, who I'm sitting, and a few suggestions on players that aren't on my team.
Feel free to write in telling me how insightful you find my suggestions, or how idiotic you think I am.  Both are encouraged and appreciated.
——Corey