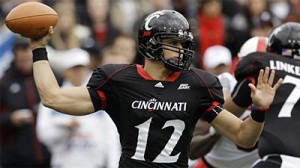 Ahhh, the BCS: where the computers do everything, and nothing makes sense.
To derive a team's poll percentages in the Harris Interactive and USA TODAY polls, each team's point total is divided by a maximum 2,850 possible points in the Harris Interactive poll and 1,575 possible points in the USA TODAY poll.
Teams are assigned an inverse point total (25 for a No. 1 ranking, 24 for No. 2, etc.) for each of their respective computer-poll rankings to determine the overall computer component. The highest and lowest ranking for each team is dropped, and the sum total of the remaining four rankings is divided by 100 (the maximum possible points total). This figure produces a Computer Rankings Percentage. The six computer ranking providers are Anderson & Hester, Richard Billingsley, Colley Matrix, Kenneth Massey, Jeff Sagarin and Peter Wolfe. Each computer ranking accounts for schedule strength within its formula.
The BCS Average is calculated by averaging the percent totals of the Harris Interactive and USA TODAY polls and the computer rankings. The highest BCS Average receives the No. 1 ranking, the second highest is No. 2 and so forth.
No it's not 1984, it's just the BCS ranking system.
How else could you explain why Boise State, ahead in both the Coaches and Harris polls fell from No. 6 to No. 7, as TCU jumped them. Much of this was "foreseen" by Boise's "weak schedule," but this is in my opinion the greatest misnomer in college football.
If playing in the Big East has taught me anything, it's this: Any team can win any week. Schedule strength? Sure, it looks good on paper and probably looks even better to the computers. But to the players on the field, it means nothing. Every week has the potential to be catastrophic to a team's season. I hate to point out the obvious, but even Div. I-AA teams can upset bigger, better teams. You still have to show up on Saturdays and you still have to win, and you'd prepare just as hard for Florida A&M as you would for Texas A&M.