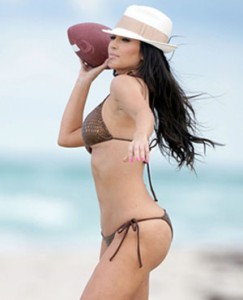 Jay here.  Hi.  Well, week 2 of the playoffs was  pretty kind to me.  Kinder than last week, where I had even my own mother questioning my intelligence.  So What did I do? I locked myself in a cold dark room, poured over hours of game day and, BOOM, this week: NFL Playoff Gold. 3-1, killed the spread.  Payin' this months rent, and as an added bonus this post has not one, not two, but THREE Kim Kardashian pictures.
Here ya go…
Saturday

Prediction: Saints 34 – Cards 31. Outcome: Saints 45 – Cards 14

Manning and Brees were at the top of their games on Saturday.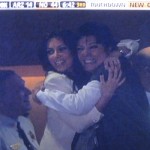 It was great to see Reggie Bush of USC resurface for a few electrifying plays. I loved how after his
punt return for a TD they flash to Kim Kardashian and her mom hugging, like they really have any clue what is going on (they don't).
Prediction: Colts 27 – Ravens 17. Outcome: Colts 20 – Ravens 3
Not sure there was ever any doubt here.  Manning being Manning.  The most surprising thing to come out of this game was that Ed Reed and not Ray Lewis is looking at retirement.  I love Ray Ray and his murderin' linebacker ways, but his time might be up.
Sunday
Prediction: Vikings 31 – Dallas 24. Outcome: Vikings 34 – Dallas 3
Prediction: Chargers 27 – Jets 16. Outcome: Jets 17 – Chargers 14
After watching Brett Favre sling it all over the field on the Cowboys and improve my picks to 3-0, the Chargers go out there and let me down and mess up my chance for a perfect weekend. By the way, WTF is up with kickers this postseason?!?! Nate Kaeding only missed 3 FGs all year and he misses three in this game? Thanks Nate you really let your team down.  More importantly, Nate,  yout let me down.
**Another side note, they must have told the story about how Mark Sanchez was at the playoff game last year when the Colts played the Chargers like 5 times. The announcers kept saying that he sat 6 rows from the top. This is probably part of his Mark Sanchez-every-man campaign. Really Mark? Your better than that. Rose Bowl MVP and future 1st round draft pick sitting in the Helen Keller seats?  A QB sitting where he can't even see the game?  Hmm…